Operation C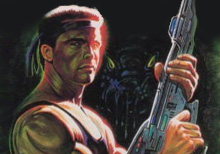 The year is 2635. Remains from the alien creatures that attacked earth on two previous occasions have fallen into the hands of an undisclosed nation. Their scientists intend to study the aliens and create biological weapons from them. Pfc. Bill Rizer is sent out on a solo mission to destroy their base of operations before the mysterious enemy can mass an all out attack.
Editor's review
Operation C is essentially a revamp of Contra and Super Contra, the makers have combined earlier level concepts and build upon them to create something familiar yet fresh. The story this time involves only Bill Rizer, as his partner Lance Bean is unavailable for some reason. After Red Falcon's second defeat, it wasn't long until a new foe appeared to once again threaten all life on earth. Red Falcon's partner in evil, Black Viper has set up a base on earth and is using it to create an army of terrifying alien monsters with his twisted biological engineering.
As far as controls go... let's just say that if you played this on a Nintendo, you wouldn't tell any difference. That's how solid the control is, and has always been. It seems Konami were in a generous mood when they created this game, because you can actually access level 1-4 right from the start screen. This is also the first Contra game where you're no longer required to tap the shoot button like a maniac, as all weapons use automatic fire. The game is rather hard though, so maybe they wanted beginners to get a fair chance. This game introduces a new addition to your arsenal; the homing gun. It's a little different from the one we're used to in Contra III, which was a pretty pathetic weapon to be honest. Here you shoot black little balls that deal nearly as much damage as the good old spread shot.
For Gameboy, these graphics aren't too bad actually. Konami have obviously considered the hardware's limitations and tried to tweak everything to make the game something special, and special it is. The details and shading in Operation C make the game a pleasure for the eye to see, everything seems up to par with the Contra standards.
A few classic tunes make their return in some levels. Like the jungle level, which uses the song from Contra's level 3. Luckily these reused songs sound very good on the Gameboy and sound just as good as their Nintendo counterparts. There are also entirely new songs that are have excellent melodies and suit the non-stop action. The sound effects are ok, but due to the soundchip's limitations certain parts of the music go out when sound effects are heard. This can be experienced on Nintendo too, but here it becomes more apparent.
Conclusion
A fun Contra game that actually gives the unexperienced player a few chances before unleashing hell upon our hero Bill. And that's where this game's only real flaw lies, unbalanced difficulty. It kind of catches you off-guard when you run through a level without so much as a scratch, only to face a mercyless boss that will have you killed in no time. In general the levels aren't that hard though, only once you reach level 4, so I may be exaggerating here. The bottom line is, I enjoyed playing it a lot, but some parts could've been improved.