Hard Corps: Uprising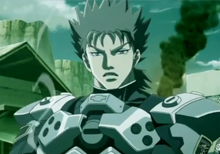 In collaboration with Arc System Works, makers of the successful beat-em-up games "Guilty Gear" and "BlazBlue", Konami brings us a new twist on the Contra franchise with a spin-off title that explores the early years of Bahamut, who fans may remember as the antagonist of 1994's "Contra: Hard Corps". The game is currently out for download on PlayStation Network and Xbox Live Arcade.
Related news
Start your own Uprising at PlayStation Home
(2011-03-18)
The reviews are in - Hard Corps Uprising is a hit!
(2011-03-08)
More Uprising screens, but still no release date
(2010-12-17)
Hard Corps: Uprising intro and gameplay
(2010-10-03)
New batch of Hard Corps: Uprising screenshots emerge
(2010-08-19)
More recurring bosses & "Uprising" character names revealed!
(2010-08-16)
Hard Corps: Uprising Beta opening video leaked!
(2010-08-05)
Comic-Con coverage brings more "Uprising" info and screens
(2010-07-25)
First gameplay footage of Hard Corps: Uprising
(2010-06-13)
An Uprising without Rizer?
(2010-06-07)
Game features
Rising mode: Includes a health bar like in Contra: Hard Corps. Earn points to unlock upgrades and customize your character's abilities, armor and weapons.
Arcade mode: Classic Contra style gameplay with one-hit deaths.
Local/online co-op mode and leaderboards.
Downloadable characters; Harley Daniels, Sayuri, Leviathan.
Fluidly animated sprites mixed with sidescrolling 3D backgrounds.
Available weapons: rifle, machine gun, spread gun, crash gun, heat gun, chain laser.
Each weapon can be powered up 3 times by collecting the same weapon again.
Carry two weapons and switch between them at any time, like in Contra III.
Execute new moves like dash, air-dash, double jump and bullet deflection.
Add-on content such as wallpapers, gamertag pictures and avatar outfits.
Story
The year is 2613. The world is now ruled by an empire known as the Commonwealth under the reign of Tiberius. Neighboring nations have suffered under the Commonwealth's oppression and Resistance Forces rise across the land. However, so many Resistance Fighters have fallen to the overwhelming might of the empire, that their strength is now severely diminished.
Faced with the overwhelming might of the empire, a group of elite soldiers rise through the ranks of the Resistance and band together to execute a desperate plan. The leader of this group is the war hero Bahamut. His first mission is to infiltrate the enemy base and weaken their forces.